Murphy Tour Part I: Egypt, Jordan, Syria and Lebanon.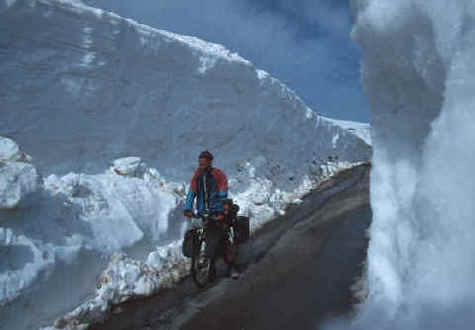 I have never seen more snow anywhere - The Middle East is full of surprises!
The Middle East and the route.
Egypt.
Visa: Needed for almost all nationals, but easy to get on borders. Price depends on nationality. 15$ and up.

Price level: Cheap.

Traffic & Roads: Not so bad traffic, major roads in good condition.
I flow to Cairo. Had almost planned to cycle there, but realized there were no time for it. Met Jeff and we took off as soon as we possibly could. Didn't see pyramids, the Sphinx or even the Nile...Too eager to start cycling. It was hot, even in mid winter and hard to get into the rhythm the first two days.
| | |
| --- | --- |
| | The first camp. So nice to finally (had had a break of a full 7 weeks...) be on the road again! |
Were almost killed by idiot bus driver in the tunnel under the Suez canal. Hard battling against horrendous headwinds on the western side of the Sinai peninsula.
| | |
| --- | --- |
| | We had been looking quite a lot on the maps and thought there would be a nice climb up to St Catherine, but it was more like a long gradual slope. |
| | |
| --- | --- |
| | Bedouin kid trying out my bike. |
After five days on asphalt we thought it was time to get off the main roads. At St Catherine we had some difficulties to find the road to Wadi Sagrah, a dry riverbed that looked cyclable, at least on the maps. It proved that most people probably knew were the turn off was, but they wouldn't like us to cycle there, or at least that was my impression.
It was a pretty crappy road, but that was exactly what we wanted. Felt like being back on the high altitude roads of Asia. The other really nice thing with it was the tranquility of the desert-no cars, no noise, only vast spaces of sand and the beautiful surrounding dusty mountains.
| | |
| --- | --- |
| | Arrived in a weird place; The Blue Valley. We heard different stories about the blue rocks: It was naturally coloured rocks (No way!), it was made xxxx years ago by some Bedouins (Hardly, looked fresh) and that it was an eccentric Englishman who went there every year and repainted the rocks (Probably). |
| | |
| --- | --- |
| | Checking out the surroundings from a little hill. |
| | |
| --- | --- |
| | Camping in the desolation of The Sinai desert. |
| | |
| --- | --- |
| | Climbing some small hills late in the afternoon. |
| | |
| --- | --- |
| | Desert camp at night under a very bright moon. |
| | |
| --- | --- |
| | Jeff cycling going towards the coast, or at least that was what we thought... |
We managed to get lost. At one point we began to think the trip was over, actually not just the trip to Asia, but the trip through life itself. Suffocating heat, water almost finished, blistering sun and an ever increasing thirst. Took shelter under a rock outcropping and waited for the more pleasant temperature of the night. Remember the phrase: "Well, we have the cool of the night and if we haven't found the road to the coast by then, I guess we can just sit down and wait for the end." A Bedouin in a truck finally showed up and he pointed in the direction we had come from, gave us water and...laughed. Stupid tourists...
| | |
| --- | --- |
| | Waiting for the sun to go down. Just before the our Bedouin savoir arrived. |
I think we lost the main track towards the coast one more time, very rough conditions and the sun went down...After hours in the dark on something that can't be called even a track we saw the headlights of a car. The main road! Managed to get to the tourist ghetto of Dahab. What a place...had to stay a day there to fix some gear, one day too much in a place like that...
Continued towards Nuweiba, met an American couple with over loaded bikes. Had decided not to support the fascist regime of Israel and therefore we took the ferry to Aqaba. Expensive and very delayed. Falafels and loads of wonderful food in the Jordanian tourist centre of the Red Sea.
| | |
| --- | --- |
| | On the ferry to Jordan. |
Jordan.
Visa: Needed by all. available at borders. Price depending on nationality. 15$ and up.

Price level: Cheap to moderate.

Traffic & Roads: Loads of trucks on the main roads. Asphalt very good, smaller roads can be anything...
Had thoughts about visiting Petra, but first of all the entrance fee was way to high and we were not that interested either. Blasted through the Jordanian desert. Monotone and what really kept us going was the reception we got everywhere in the towns we stopped in. Very welcoming and polite people.
| | |
| --- | --- |
| | A little cafe with excellent STRONG coffee in the middle of nowhere. |
| | |
| --- | --- |
| | The owner of the place, a bit like a Jordanian Fidel Castro. |
| | |
| --- | --- |
| | The owner and a customer. |
We did fast progress, stopped for water, falafels and some other goodies on the way, but mostly we stayed on the saddles and it felt good to go through the desolate and hot landscape at a high pace.
| | |
| --- | --- |
| | A little bit of off road riding on rocky ground. |
| | |
| --- | --- |
| | Emptiness - Direction Iraq. |
| | Same, looking towards the west. |
Murphy struck and my seat post snapped in two on completely smooth nice asphalt 30 km from Amman. Cycled standing in to the Jordanian capital. Couldn't find a good one there either, improvised with super glue....result: I cycled standing/resting a bit on the weak construction all the way to Beirut.
Syria.
Visa: Available at borders for most nationals (hold your ground, they tell you "no" first), NOT for Americans. Price: Depends on how well you can get around the "changing money at the official rate requirement". 3$ and up, normally around 15$.

Price level: Cheap.

Traffic & Roads: Not much traffic, major roads in good condition. Desert roads, very sandy and rough.
| | |
| --- | --- |
| | Welcome to Syria! Sure, if you have your visa already or doesn't carry an American passport. |
One of the first really bad things happened at the Syrian border. After an argument with the border officials I got my visa, but there was no way in hell for Jeff. "No we are SOO sorry, but you're American, go and apply in Amman". Where the fucked up embassy doesn't issue visas to anyone. I had already checked in in Syria and we were separated, felt like shit. Later Jeff told me, that on top of it, we was held for a long time on the Jordanian side by a bastard official, who wouldn't give him the passport back unless Jeff slept with him.
Set the highest pace possible to reach Beirut, where I knew I could find a good seat post. Crazy traffic all the way from Damascus (which I passed through without stopping) and super crazy the closer I got to Beirut.
Lebanon.
Visa: Available at the border for all. Price depending on how long you wanna stay, from 17$ and up. Free for less than 72 hours.

Price level: Moderate, cheap alternatives available if you look around.

Traffic & Roads: Traffic around Beirut absolutely hellish and not much better on the other main roads, almost nothing in the mountains. Very good asphalt most of the time.
Fearing for my life when entering the Lebanese capital, of course I arrived at rush hour. Met Stefan from Sweden on the way in, decided to meet up later on in Asia.. Found the perfect location by sheer luck: good bike shop, very cheap hotel, internet cafe and a great restaurant on the same street in the old quarters. AND, I finally got a good seat post!
| | |
| --- | --- |
| | Set off straight for the mountains. 700m up after just 10 km. Extremely beautiful mountain landscape and a welcome break from the deserts. |
Up and down for a whole day and it was the hardest day by far in the Middle East. Found a fantastic camp spot on a snowy hillside.
| | |
| --- | --- |
| | Talking about snow....I've seldom seen more snow than in the Lebanese mountains and really enjoyed the cycling there. Beautiful - one of the highlights of the whole trip! |
Arrived in B'charree. Memories cam back from last time I was there in 1994. Back then I had arrived in a miserable state with frostbitten feet, and completely exhausted from a crazy attempt to cross the Lebanese mountain range in meters of snow in sandals. Went up to the same pass to try it out, but realized it would had been too much, crossing that bastard in meter deep snow once is enough.
| | |
| --- | --- |
| | Art made out of Cedar wood. B'charree. |
Passed the border to Syria again and this time at a very small border crossing, managed to get around the rules and got a very cheap visa. Sped past Homs and aimed for Palmyra.
| | |
| --- | --- |
| | The best preserved Roman ruins in the world, is to be found there they say...ok, fine...not my thing. Hordes of tourists from all over the world, cameras and cam corders in hand. Very high prices for everything on the main street... |
After a very mixed reception ( some stupid kids hailed me with rocks and some very nice shopkeepers tried to give me everything they had for free) in As Suchnah, I was once again utterly sick of main roads, asphalt and traffic. Headed straight into the Syrian desert and enjoyed the silence of the dusty and dry landscape. Lost my way, but once again I was lucky to meet a Bedouin who gave me directions to the next place. Arrived in Qom like a "cowboy-film-cowboy-" from the big nowhere. The surprised population almost forcefully invited me to their main house and they told me a was an honourable guest and I was welcome to stay as long as I wanted.
| | |
| --- | --- |
| | Some of the very friendly people in Qom, a little settlement in the heart of the Syrian desert. |
They also fixed my punctures (had gotten about ten of them after riding over some thorny bush while arriving), gave me enormous amounts of food and drink. almost difficult to get away from these fantastic people, who were very sad when I left after just a couple of hours.
Sandstorms on the way to Raqqah. Had diving competitions from a bridge into the Euphrates with some teenagers. That little game almost got out of hand, loads of cars stopped on the bridge to watch the crazy foreigner and the local boys taking dives from the bridge. A police patrol stopped us in the end.
| | |
| --- | --- |
| | For Muslims only. |
Had ideas about trying out the Iraqi border, but felt I had no time for it, had no clue where Jeff was and there was no internet in Syria, so no way to find out either. Went towards the Turkish border.