Gear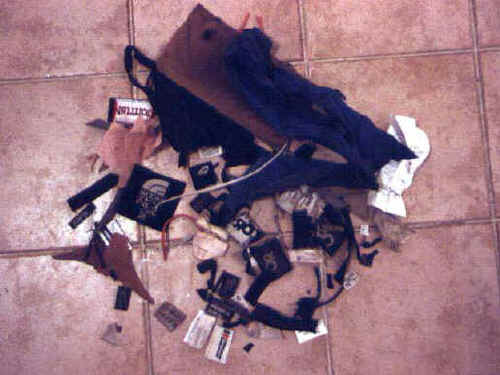 This is stuff that no light weight cyclist needs to lug around!
There are millions ways to travel. I've met bikers on everything from single speed crap bikes and collapsible mini cycles to aluminum tandems and full suspension carbon bikes. I don't think there are any "right or wrong" way to do it, but you can avoid loads of problems if you analyze what you really need before taking off.
First, ask yourself some simple questions: How long will I be on the road? What kind of roads will I mainly ride on - sealed or unsealed? What's the possibility to fix up the bike along the way? How much gear do I actually have to bring with me? Will I be able to find compatible bike parts? Which climatic zones will I pass? etc. etc.
When you have answered these questions, you probably have a better idea about what your gear will consist of . For ex: if your journey will be 90% on asphalt roads, why use mountain bike tires.
My base concept is: simplicity and strength. Whatever you think about Shimano's stuff, It can pay off to go with their gear, thanks to the availability around the world. There have been books written on this subject and I don't have the time or ambition to go too much into details. On this page I'll tell you what I like/don't like and what I usually bring on a trip. For me, the gear below works fine, but there are millions of other solutions to it. ::::
Bicycle Camping Clothes Med. Kit Misc. Paul's essay about racks. Update
The base.
Frame. Marin Team (prototype). Go for a steel frame, much easier to weld or fix, if it gets messed up.
XT or LX Back derailleur. XTR is unnecessary expensive for touring (the saved weight vs. the price).
Front derailleur, everything from XT to Alivio.
Double wall rims. The one I like the most is Sun Rhyno. Have had bad luck (?) with Mavic, cracked three. Some people use rims with more holes in the back rim, due to the higher weight.
Seat. buy something that feels comfortable, for me it doesn't matter..
Swiss DT spokes. Stainless steel, thick..
I guess I've been lucky with hubs, never had any problems even with very cheap ones.
Strong nipples. Not aluminum.
Buy the best bottom bracket you can find, important!
Pedals, you can go with cheep ones and change the whole set when they break down.
Same as above with crank arms.
High quality drive train.
Cable and housing of high quality.
Gear shifters. Simplicity and strength: Shimano Topmount LX/XT. Rapd Fire is very good as long as they work, but if something happens...over a hundred moving parts inside.
Front fork with holes for front rack.
Headset: The Ahead set system is great (you don't need the big spanners, just an Allen key).
Comfortable grips on the bar.
A bar suited for your body size
Bar ends, for more variation of holding.
Racks, preferably made out of steel. The best ones I've seen/used is Bruce Gordon, Nitto and Tubus. Aluminum: Cannondale and Bor Yueh have worked OK and they have hollow tubing, which gives you a second chance if they break (put an overlapping iron stick inside). Blackburn have a lifetime guarantee, but that doesn't help when in the third world with a broken rack. I have broken three of those overrated pieces of.... Have a look at Paul's essay on the matter.
Bottle cages: Minoura have adjustable ones that takes up to two liter bottles. Looks weak, but they're great!
A powerful horn may be very useful in overcrowded countries.
The same applies to a mirror..
A speedometer/cycle computer, may sound like a luxury item, but can help you out a lot when you calculate how far it is to the next village, to water, etc.
Tires: I can' t see any point in going with tractor/mountain bike tires. With the weight you have on a touring bike, you usually get all the grip you need even on bad roads. Snow, ice or deep sand are the exceptions. I would say Continental Goliath is sufficient for me at 85-90% of the time, including bad Tibetan back roads. Schwalbe Marathon XL Spezial is good enough for any conditions and must be the strongest bicycle tire ever made, but can be a bit slow on nice asphalt. Golden Boy Classic Semi slick last forever and is a good cheap alternative for the front wheel. All the above, has lasted me for 10 000 km or more (Golden Boy wont last that long if on the back wheel). Other "specialized" tires like (to mention a few) Nokia Ultra Tour, Vredestein Spider, Gordo Travel etc. are all crap, way too weak walls.
Tubes: since I stopped going with the really light ones, I've realized the puncture frequency have dropped dramatically. Better to try to save those grams somewhere else.
A strong lock: I've always had a Kryptonite of the thickest possible variety and have left my bike everywhere without worrying too much (well, New York City excluded).
Spare keys for the lock!
Arnostraps. Perfect for strapping something tight to your gear.
Elastic straps. If you want the stuff be a bit loose.
Panniers. I tried out Karrimoor and realized they were absolute junk. AguSport was ok, but not water proof. Carradice-No! Ortliebs system is really great, especially the older simple versions. No cosmetics, only function. 100% water and dust proof and they last forever. Vaude, Jack Wolfskin and some other ones have tried to copy Ortlieb and it seems like some of these are as good as the original. I've had the same Ortlieb set since 1995 and they're still in pretty decent condition.
Two-three 1,5 liter PET-bottles.
Spare parts etc.
Spare tube/s, amount depending on which area you're in.
In some remote parts, it can be good to have an extra tire.
Bailing wire.
Different kinds of straps and hose clams.
Different kinds of tape (electrical, medical, duct etc.)
Nipples.
Spokes.
Screws, nuts etc. Try to have the same kind of head on as many places as possible.
Bearing balls for hubs and headset.
Superglue.
Patch kit. I like the variety which comes on a roll. Cut the patch to the excact size yourself.
Tirelevers.
Extra brake pads.
Grease.
Textile/cloth, for tent and cloth repair.
Seamgrip. A very good glue! Glues everything. For ex: I ripped my down sleeping bag and glued on a candy wrapper. It stuck so good, I still haven't changed it...
Tools.
Multitool. There are many good and many good on the market. CoolTool is ok, TopPeak make some good ones. I like The Alien, a complete tool, with everything from chaintool, to levers, all allen keys you need etc.
Freewheel tool.
Spoke tool.
A bigger udjustable spanner, can be good to carry the extra weight sometimes, if something weird happens to the frame or whatever.
Cone spanners.
A saw blade for metal.
Leatherman Tool or some of the other similar tools. The best I've tried is the one from Victorinox.
Pump.
A matter of personal choice. I've many times thought I've found the ultimate tent, but after some time on the road, I've realized it probably doesn't excist. Comfort has to be weighted against packed volume and weight, the main climate type etc. Personally I like the freestanding constructions. The last thing you need when tired is to mess around with a compliacted set-up procedure or rockhard ground where you can't get the pegs down. Also, choose a tent witha waterproof floor! Why carry around a groundsheet, in addition to all the other gear? Here are some of my favorites, even if they are far from perfect.
Vaude Space Explorer: Very fast to pitch, good floor, good weight to space ratio and relatively windproof. It's my favorite, even if it wears out a bit too quickly and is big for a single person.

Sierra Designs has a lot of good models and they can take a lot of hardship. The Twin Peaks model= A three season tent I actually used on the coldest of my trips (winter ride through Tibet, down to -25C). Amazingly warm and ok to pitch, not selfstanding and a pretty bad floor. Light. The Orion seems to be a very good alternative for a single traveler.

Rock Pegs fo pinning the tent down, very strong and durable. Forget about all the standard weak aluminum crap pegs.
Sleeping bag. Marmot Nighthawk. I have used it for over 6 years now and it is fantastic!. Goretex and 700 down. Many people don't like Goretex for the sleepingbag, but I love it!
Ground mat. Thermarest. Why use a longer and heavier one, when you can put other gear on the foot end anyway. In the future I hope the can invent a model that can't be punctured...If volume isn't of any concern or if you know you're going to areas with loads of thorns, maybe you should consider a normal styrofoam sleepingmat.
MSR-XGK II. Since MSR introduced the shaker jet, I have no complaints whatsoever. Burns on anything and can be mistreated, modified and still it works great.
Pots. Going with some very cheap stuff I bought in Pakistan for approx. US$ 0.70/piece. Warning for Seagull crap pans, impossible to avoid things spilling all over the palce.
A spoon. Knife you have included in the multitool. I've never felt any use for a fork.
Some spare part sfor the stove, maybe some extra O-rings etc. A rag. Usually you cn pick it up along the way. Sand is also great for getting the burnt stuff of the pans.
A mug. Have a good collapsible one (forgotten the name), which fits in the pocket.
Very much what you like yourself. When I have going for long rides through different climate types the clothing sack has been filled up with:
Goretex: Jacket, pants, gloves, socks and gators.
Fleece: Jacket, pants and innergloves.
Thermal underwear. Sweater and pants.
A pair of thick socks and one or two pairs of light ones.
A superlight wind breaker set. When it's too hot for the Goretex, which doesn't breath at all as good as the commercials says.
Cycling shorts and a tanktop.
A set of "civilian clothes" for cities out-of-the-wilderness in general.
Shoes: SPD is good for home, but on longer trips, why bother. I cycle in "flipflops"/thongs most of the time and in colder areas some light trekking boots or joggers.
A cap, a scarf and a "commando balaclava".The latter is very good for various conditions like sandstorms, severe cold etc.The cap for protection against the sun and the scarf around your forehead if you sweat a lot or around your neck if cold etc.
Sunglasses. Many go without, but you can usually tell who does, from the red eyes in the evenings. Good against the sun of course and also against the constant wind.
I usually have a pair of shorts on top of the bicycle shorts. Feeling a bit "naked" in some parts of the world where the locals haven't seen tights before.
Clothing is very much what you like and I don't think there any rights or wrongs. I would almost say 99% of all cyclists I've met have at least double the amount of clothing they really need. Later on on my journeys I've realized how much unnecessary clothing I carried in the beginning. Nowadays I get rid of stuff I haven't used the last two weeks.
As said before, Goretex is not that good and there are other better alternatives.
Windbloc and Windstopper sucks, trapping too much moisture inside and the warmth capacity decreases a lot compared to fleece without these fashion attachments.
Footgear. I have met amny cyclists who have bought boots which goes too high up on the leg and have ahd problems and pain because of this.
If you wanna try cycling in sandals/flipflops, try it out a bit back home first, some people gets a lot of pain from this.
Also, if you're on a low budget, you don't HAVE to spend a fortune on gear. For ex, Ben and Cam had almost no gear when starting to equip themself in Katmandu for the winterride in Tibet. They mostly bought cheap copies and it worked out fine. It is imporant to some prior knowledge if you shoot for this approach. Check out how the clothes are working and especially how the stitching is done. The stuff in Katmandu for ex. is usually really bad crap (whatever the frauders who sell them say). Look around a lot before buying anything in places like those.
If not in the third world full of copy gear, there are loads of cheap alternatives in the west as well. Why bother to spend hundreds of dollars on horrendously expensive "functionwear-super-traveller-pants-bla-bla", when you can pick up military pants for a tenth of the price, which usually works better, lasts longer etc.
I'm not a doctor and I should maybe not give too many recommendations on this topic, but this is what I usually carry. Going to the third world, don't buy anything back home for an extortionate price. Usually everything you need is readily available over the counter for almost nothing in the third world.
Painkillers. Paracetamol for mild pain and some codeine for more hardcore situations.
Bromhexin or something similar against caughing.
Metronidazole or some of the other ones in the "zole-family". Against Giardia and Amoebic Dysentery.
At least one wide range antibiotic. Tetracycline, Augmentin, Lexinor and Amoxicillin is stuff I carry.
Multivitamins.
Diclofenac/Voltaren if you have some sort of a muscle inflamation.
Bacterial killing ointment/cream agains small cuts or mosquito bites.
Eye and ear drops.
Malaria. I never use profilactics. I carry a dose of Lariam or doxycyline for emergency treatment.
Tiger balm or liniment if you have overexcerted yourself.
Plaster, leukoplast, sterile swabs and Mepitel (so called "siliconvävsplasters").
Sometimes I bring Loperamide/Immodium against the runs. Just remember these pills doesn't heal or help you stopping the disease itself, it only "freeze" your innards.
Iodine for water purification and for disinfecting wounds.
Electrolytes against dehydration
Mosquito oil.
I may be a bit careless, but haven't taken any vacinations, maybe you better for some areas...
In some really remote areas I have brought scalpels, intravenous painkillers and "stitching-yourself-up-equipment".
Another very subjective category. Some love photography, others doesn't even bring a camera...here's what I carry.
Camera. I love my Minolta 9xi, even if it is pretty heavy. A wide angle zoom 24-85mm and a long zoom 100-300mm is enough for most occasions. I carry it in a small modified camera bag I bought in China.
Pens and a notebook.
A pocket book.
Maps, sometimes some copies fo relevant pages from a guidebook.
Toothpaste and toothbrush
Minimaglite, where I put my keys.
Candles. Good for illumination and moist eater in the tent.
Altimeter watch.
Contacts and contact lens liquid.
Glasses.
Sometimes ice ax and crampons.
Passport.
Visacard.
Travellers checks.
Passport copies.
ISIC card (fake, easy to pick up in Asia or South America.
Sometimes a superlight backpack for dayhikes, max 25 liters.
"Moneybelt".
Loads of stuffsacks, some of them waterproof.
Addressbook.
For drier areas a waterbag, 5-10 liters.
Mini scissors.
Pass photos.
Spare batteries.
Earplugs. Good on noisy roads and against ice cold winds.
Sewing kit.
On the last trip I started ( with Jeff's help) to get really silly about weight saving. We cut off everything and I really mean everything, which is not needed when touring. That was everything from laundry tags and gear indicators to too long straps and extra not-really-necessary pages in the passport. Insane?! Maybe, but fact is that we saved kilos this way. It doesn't help to cut off a tag here and there (even if every gram gone is a gram less to haul around...), but if you do it consistently, you can minimize the gear a lot, both weight and volume wise.
Go mad with the knife, pliers and scissors! Drill holes in every single item, eat with a spanner (who needs fork and spoon?), cut off everything on your maps, except the planned route and so on.