"Schizo Tour" 1999 - 2000 part 2 - Asia and Europe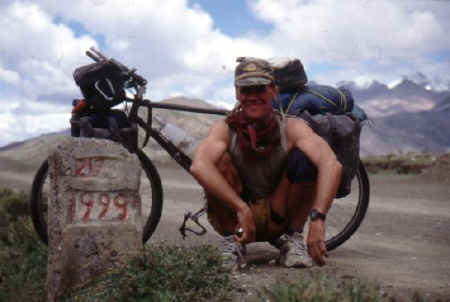 1999km out of A-Ba, The starting point for Road 217.
Pakistan
Met Stephan and a whole bunch of people I knew from my last visit in Pakistan, felt like coming home. Stephan and I had already cycled the southern part of The Karakoram Highway (KKH), and therefore we decided to take the bus to Gilgit, the provincial capital of the Northern Areas. We five other cyclists along the way and it felt great to once again have some company, which I'd missed a lot since I split from Flor in Peru. After two hot days we arrived in the ever so beautiful Valley of Hunza.
| | |
| --- | --- |
| | KKH with Rakaposhi 7790m in the background. |
| | Back in one of my absolute favorite parts of the world - The Hunza Valley. |
Took a couple of days off from the cycling and trekked up to Ultar Meadows at 4500m. Wonderful views of glaciers and rugged, unclimbed 7000m peaks. Full moon, a sky packed with stars and company of good friends made the night an unforgettable experience.
| | |
| --- | --- |
| | Whichever way you turn - you're surrounded with high and beautiful mountains. Here, on the way up, I had the choice of looking north at the Ultar/Hunza range... |
| | ...or to the south at the Rakaposhi/Diran massif. |
| | Karrianne takes a rest after arriving at the camp. |
| | I think it's hard to find a more beautifully situated camp spot.. |
We continued our journey north towards the Chinese border.
| | |
| --- | --- |
| | Passu Cathedral. |
On our way to the highest border post in the world, The Khunjerab Pass, 4700 m., some of the people in the group wanted to take it easy and some suffered from the increasing altitude. I decided to go the top in one day from Sost. This pass is something really special to me. Probably because it was the first pass I ever cycled. After approx. 2000 vertical meters and 86km I reached the top of the pass. Was warmly welcomed by Pakistani army who served me enormous cups of hot tea and peanut porridge. Camped alone at the beautiful pass.
| | |
| --- | --- |
| | The camp at Khunjerab Pass. |
| | Last time I was on top of this pass, it was 70cm of snow and a raging blizzard was closing in, this time - perfect weather and blue clear skies |
Xinjiang, China.
The other six cyclists arrived the day after and when our little group was reunited, we rolled down to the big high plateau on the northern side of the Karakoram range.
| | |
| --- | --- |
| | Another beautiful camp spot, this time on the Chinese side of the border. |
Stephan searched for shortcuts leading east. After Tashkurgan we finally found a small dirt track, which we reckoned could bring us towards Mazar and further on to Xizang/Tibet. Two days of pretty rough, but nice cycling along a wild river.
| | |
| --- | --- |
| | A very primitive bridge on the way towards Mazar. |
We were not careful enough and was arrested by the PSB halfway on our way to Mazar. They sent us back to Tashkurgan. Set a high pace and went to Kashi/Kashgar - the oasis city on the brink of the Taklamakan desert. Our other friends had already arrived and we met Albert, who wanted to join me and Stephan on our journey to Xizang.
| | |
| --- | --- |
| | The perfect combination of desert and mountains. It was here, just after Aqmeqit, the Taklamakan desert met the Karakoram range. |
When we started the climb over the first high passes, I realized I couldn't cope with Stephan's aggressiveness towards the locals, dogs etc. He got angry for the smallest setback, I started to feel very uncomfortable in his company. During the trip he had invented the most diabolical weapons (a crossbow, his pump doubled as an air gun etc.), which he used against locals and dogs, whose only crime was curiosity. When his unstable and crazy behavior started to get directed at me, I had enough. After a quite violent argument in Kodie, Albert and I continued on our own.
| | |
| --- | --- |
| | Usually I try to hide my tent, well away from the road, but in the wilderness of China I often try to stay as close to the road as possible. Military convoys often stops and give you some food and it's always nice to have a chat ... This time some curious members of the PLA (Peoples Liberation Army), pays me a visit. on the way up to the first high pass, Chiragsaldi. |
If you try to "translate" our daily life to more domestic terms, maybe the differences aren't that big....
Xizang, China.
| | |
| --- | --- |
| | Time to get out of bed. |
| | The morning toilet. |
| | Doing some laundry. |
| | Siesta. |
| | Cooking. |
| | Hard work. |
| | Meeting colleagues. (*see below) |
| | Going to restaurants. |
| | Sitting in a hotel relaxing. |
| | Taking a rest in the backyard. |
| | Night entertainment. |
* Chen Lei, a guy from southern China which spirit I really like. He decided to cycle the full distance of the Chinese border. The roads we were on was at times pretty bad, but the ones he had to take sometimes was beyond most roads I've ever seen. When it comes to his gear....a tarp to sleep under, jeans jacket and a small backpack full of biscuits. To prove that he'd done the route he intended to do, he went to every post office along the way, put a little stamp in his notebook and asked for a stamp from the postal worker. His ultimate dream is, to one day be able to cycle in the rest of the world.
Passed Mazar, the turnoff to the K2 Base camp and the progress over the first three high passes went on very smoothly. I was struck by the feeling of how easy it was to cycle in this area in the right season. You didn't had to fight the cold, snow and ice all the time. There was a big difference between "summer"and Late winter/early spring in -97 The Aksaichin plateau was it's old self though, cold, desolate, barren and eerie. Problem free and nice progress all the way to Ali/Shiquanhe, the approximate halfway point on our way towards Lhatze.
| | |
| --- | --- |
| | Uighirs, Chinese and Tibetans alike, helped us out on our journey. We got very surprised when the military guy (middle) refused to sell us gasoline and told us to fuck off. When we were about to leave, we heard swearing about Americans. After explaining we were from Sweden and Germany, he apologized a million times, gave us gasoline for free and invited us to stay in the army camp as long as we wanted. This just weeks after the American bombing of the Chinese embassy in the Balkans.... |
On the wrong side of the Gar River.
When reaching Shiquanhe Albert's via time was almost up. He decided to give himself up to get an extension. The PSB gave him another month, a stiff fine and a travel permit for the rest of the journey through the forbidden areas. Albert decided to have a couple of days off and I cycled into the city after sunset, shopped, ate and continued. Just when I left a violent rainstorm hit. Had big difficulties to find the road in the zero visibility night. After eight hours of pissing rain, mud up to my knees and trouble of finding the (any) road, I decided to camp. The morning after I realized I had no clue where I was. Found a track up pass which at least took me in the right direction and arrived to the Gar Valley. The road leading to Central Xizang was on the other side of the flooded river and when I arrived at the fording place a pretty bad sight met me. About ten trucks and jeeps had "drowned" in the river and there was no way I could get over, at least not with my gear.
| | |
| --- | --- |
| | Good business for a guy who owned a caterpillar, charging extortionate prices to get them out of the river. The man promised me to bring me over for free when he was done with the trucks, but his vehicle broke down after hours of hard work with this truck. |
| | This truck was too deeply buried in the mud and the people tried to save as much of the goods as possible. |
| | Dangerous rescue attempt of rice, and other stuff. |
| | Ice-cold water, sometimes strong current and...a big smile on the face. |
Too stubborn to give up and I hate backtracking. Some locals told me there was another place 150km upriver. Continued for days through a completely empty landscape no people, some ruins and lots of marmots. No roads either, but loads of rivers. Three days later, I realized there was no way I could ford the river at the place they had recommended. I could swim over ( which I did, resulting in being swept downstream, almost drowned and suffered from bad hypothermia for hours and hours), but there was no way to get the gear and the bike to the other side. I was getting more and more desperate and short of food. Still to stubborn (or stupid) to turn back I continued upriver. Sometimes over a hundred rivers a day to cross. Mostly small streams, but some wild wide ones, made my progress very slow. Finally I reached the river canyon which lead up to the source of the Gar river. I was confronted by the choice of strapping my bike to my back and climb over the glaciers, go back and get the rest of the gear and climb over again or backtrack all the way back to Shiquanhe. I had no guarantees for any kind of road on the other side of the glaciars, so I decided to turn back. Realized I had food for perhaps two days and it had taken me six days to get to the point where I was. Went nonstop from dawn till dusk and suffered more and more from hunger. Had serious thoughts about trying to kill birds, marmots and even horses. Hunger can push a person to almost anything...
| | |
| --- | --- |
| | Day after day upstream. No roads... |
| | Sometimes hundreds of rivers to cross. Some wide with almost no current, some small creeks and some like the one on the picture: Narrow, but deep with an insanely strong current. The only way was to throw over the gear and bike and take a long jump. |
| | It was very cold and impossible to keep the feet either warm or dry. In the end they started to "dissolve" and I had no other choice then cycling barefoot... |
One day when everything felt really miserable, I encountered a nomadic family who gave me some food. Got some energy back and went for a dead run for the big bridge that would take me to the other side of the river. Wasted and hungry, I finally arrived at the main road. Decided to hitch, to see the Gar River Valley two times was definitely enough. Was quoted everything from 300Y to 60 000 (!) Y for a hitch to Moincer, before a convoy with cool truck drivers picked me up. Very difficult even for the trucks to get through the flooded valley.
Back on the right track.
| | |
| --- | --- |
| | My driver was a full blown racist, but as a Swede, I had no difficulties with that. He had a mental list of all nationalities and what they had to pay for a lift to a certain destination. Swedes and Polacks paid the lowest fees and on the top of the list were the Germans and French who had to pay over four times as much. When I asked him Americans should pay, he just laughed and exploded into series of Kung Fu Kicks.... |
Arrived at the sacred mountain Kangrinboche Feng (Mt Kailas). Grim, abysmal conditions in the overcrowded campsite where poor pilgrims clustered before doing the obligatory walk around the mountain. A was informed that a number died every year from bad sanitary conditions. In morbid fascination I watched starving dogs devouring the corpses of dead pilgrims.
| | |
| --- | --- |
| | A dog eating human remains. |
Had to keep a low profile to avoid roaming PSB and was quite happy to get through without being arrested. Kicked up the pace to catch Albert, whom I caught two days out of Darchen. The monsoon rains stopped for two days and the cycling was easy, beautiful and enjoyable. After Mayum Pass we once again had problem with food, but we were lucky to find some creeks full of trout.
| | |
| --- | --- |
| | For 11 years I've been a vegetarian, but when Albert started to stone trout I couldn't resist the temptation. Fried them in the only thing that was available - bike grease. |
Picnics, festivals and water.
Had the luck to be invited to a traditional "summer picnic" in the mountains. Horseracing, good food and lots of partying in the middle of nowhere.
| | |
| --- | --- |
| | It was a very interesting experience, but sometimes we felt a bit ashamed to be there. We arrived at the same time as the final in horseracing started and everyone's attention was directed at us, not on the horserace.... |
| | |
| | |
| | |
| | |
| | In areas like these you'll get happy for small things. One day we found about ten crates of fresh vegetables which had fallen off a truck, I felt like a small child on Christmas Eve... |
| | We reached more densely populated areas and it was always interesting to open up the tent in the morning... |
| | According to many truck drivers, the year of 1999 was the worst eve, when it came to flooding. The monsoon had gone over The Himalayan Range and the result was sometimes a catastrophe. |
| | Sometimes we had to cross wild rivers with strong currents, some "seas" of water was in our way. The only thing we sometimes could encourage ourselves with, was the fact that we traveled at the same speed as many of the trucks. |
| | Had to plan when to eat. Sometimes it took hours to cross the bigger flooded areas. |
| | If not water - sand. |
Once again we had the luck of ending up being invited to one of the big annual festivals. This time it was "the war festival, full of horseracing, marksmanship from horseback, target shooting with crossbows all dressed up fantastic colorful traditional dress..
| | |
| --- | --- |
| | |
| | |
| | |
| | The lucky winner of the archery form horseback. |
| | This women claimed to recognize me from the winter of 1997. She pulled my dreadlocks and indicated that was the thing she remembered. I guess there are not too many cyclists in the winter in Tibet and if the cyclist also have dreads...well. |
Central Tibet and the road to Katmandu.
When we arrived in Lhatze I realized my drive train was completely shot and I had no other alternative than heading for Katmandu, a place I can't say I like. It felt a bit bitter not being able to continue towards East Tibet, but that's the way it is sometimes. Albert continued towards Lhasa and I had to accept my fate, heading for Katmandu. Mixed feelings about "the Friendship Highway. Lots of begging, sometimes aggressive behavior from the Tibetans and loads and loads of problems with my shot drive train. On the other hand the views of the high Himalayas was fantastic and the transition from the high plateau, to the subtropical lowlands of Nepal was fantastic.
Once in a lifetime! A small anecdote about completely unrealistic luck. 32 km before Shegar my back tire hit a very sharp rock, the inner tube acme out and the tire exploded. There was no way in hell to repair it. I had to push my bike all the way into Shegar, no tire, so I continued the 8km to Old TIngri. The only thing I found was a two # too big Chinese tire. Walked back to Shegar. Started to cut up the Chinese tire to stitch it together with the old "exploded" one. The son of the owner of the hotel, about eleven years old, studied me. He probably realized my work was a long shot in the dark and held his hands over his head and said: No, no, no. Well, if you have a better idea, please tell me, I thought. He actually had. Slowly he walked to a little shed and a minute later he came back with a brand new Schwalbe Marathon XR (one of the best touring tires you can find anywhere in the world). I couldn't believe my eyes! He asked me how much my tires had cost me new and I told him it was pretty cheap Chinese ones, for a price of 25 Yuan a piece. He was willing to sell the Schwalbe for 30 Yuan. It is at these occasions you really appreciate fate's completely unpredictable ways.
Tried to cycle to Everest Base Camp, but my drive train said no and after Shegar I was down to three gears. Up and over the last high passes and a 160 km long downhill lay ahead. My bike throw in the towel 60 km before Katmandu and once again I had to arrive to the cit on bus roof.
Nepal.
Rest and planning. Tom, Karl and I took off for the 6500m high Hiunchuli in the Annapurna massif. When we reached The Annapurna Basecamp and had had a chat with a 18 men strong British Army Expedition, we realized a summit attempt was out of the question. Constant avalanches, rock falls and very unpredictable snow conditions had held the well equipped expedition at an altitude under 6000m for over ten days and we had no illusions that we could do better.
| | |
| --- | --- |
| | The weather was all the time ranging from bad to very bad. We saw Macchapucre for almost 30 seconds one morning.. |
Back to Katmandu. Tried to re-join the GMPR, www.peaceride.org which now had reached India. Indian bureaucracy and a fatal accident within the group stopped my intention. After receiving a message telling me that long awaited money wouldn't come, I decided to head back for Europe. Flow to Hungary.
Europe.
My original plan was to go straight up north, Sweden bound, but couldn't resist the temptation to check out the Balkans. Tried to get into Serbia, no way to get a visa. Went for the Croatian border. Wonderful scenery, surprised and friendly people. Bosnia gave the opportunity to talk to interesting war veterans and hear about their opinions of life. Camped on garbage dumps, it is way better to smell some garbage, than trying to find a camp spot in the untouched and mine infested fields...back to Croatia, lush forests and challenging mountains in a beautiful national park. When I reached the coast the infamous Bora struck. The catabatic fierce wind of the Croatian caost ripped off panniers, almost threw me into the Mediterranean and I couldn't believe any wind on earth could be that strong. Had to resort to pushing my bike in parts and sometimes I was doing over 20km/h, uphill - 8%, without pedaling! A pretty intense experience. Wanted to go up in the Slovenian mountains, but my knee got a bit screwed from the encounter with the Bora, so I had to go for the Italian lowlands. Had a break at a friend's place in Lugano. Managed to get over the San Bernardino Pass without too much difficulties. Loads of snow, it took me a long time, but the views were great.

| | |
| --- | --- |
| | San Bernardino Pass, Switzerland. |
Another break at a friend's place in St. Gallen. It's always wonderful to visit bikers in their homes and have a look at photos and talk about old times. Fast through a blizzard infested Liechtenstein. The weather in Austria was slightly better, but still pretty cold and rainy. Full speed to Albert's place in Bavaria and another nice break and discussions about our time in China went on day and night. Almost got caught in the snow chaos of the Bavarian hills and after some hard wet days, I arrived in a sunny and warm Czech Republic. I was down to my last 10 dollar bills and was extremely lucky to get a job just hours after arriving in the medieval town of Cesky Krumlov. My bike frame was broken and dying, no one wanted to weld it for me, so the journey through Poland became a combination of riding and trains. Took the ferry from Gdansk to Sweden and the Schizo Tour was over. It was a weird combination of many countries and four continents, a bit of zigzagging over the world, but that was the way I wanted it and overall it had been a really great trip!