Murphy Tour Part IV: Tajikistan.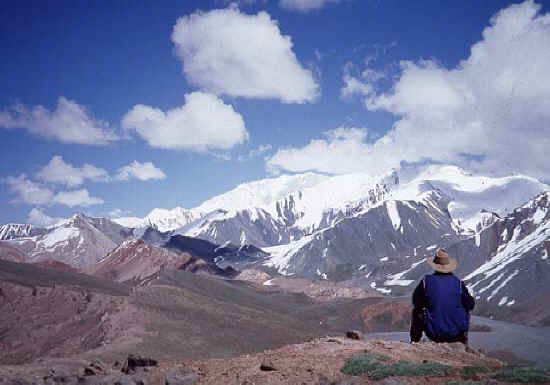 "This shits on the Karakoram Highway". Quote Mark Eskdale, on the way to Khorog.
The route, click on the map for larger size.
Tajikistan.
Visas: Difficult everywhere in the world, except for Ankara. 80$ for single entry, 100$ for multiple, on the spot. Elsewhere: invitations, sponsors and the standard bullshit. Officially you have to register with the OVIR, I didn't - no problem.

Costs: Very cheap, hotels start on $0.40. Dushanbe more expensive. Difficult to find food in Gorno-Badakshan Province.

Traffic: A car or two a day on The Pamir Highway. Mostly good asphalt on the main roads and very rough dirt tracks with absolutely no traffic on the smaller roads.

Dangers: Loads of horror reports about the country, Lonely Planet is no exception. They have obviously never been there - all their info is completely wrong. For ex. According to them: "No embassies have the right to issue visas" - In reality: A great place to pick up visas - a Chinese 3 month in a day and so on. I would say the country is very safe, with the exception for the Komsomolabad-Obigarm area and the valley leading towards Kyrgyzstan in the north. Very weird vibes and loads of Mudjaheds with BIG guns. Take care in these areas! Mines are a danger, but usually there are signs saying "mine", in Cyrillic...one of many reasons to pick up some basic knowledge in that alphabet...
Left wonderful Uzbekistan overloaded with food from the last village and approached the border crossing. Had heard loads of horror stories about the corruption and "the most dangerous country in the world". Checked out of Uzbekistan, without any hassles and when we arrived at the Tajik side we were met with curiosity and surprise. The border guards couldn't really grasp the idea of going to the country as a tourist and especially not on a bike. We were invited for tea, warmly welcomed and left the border post with big smiles on our faces, with not even an entry stamp in our passports.
Five km down the road we had a break and two very tuff looking guys stopped their old Niva and strutted over to us in a very cocky fashion. Big guns in holsters under their arms, dressed in army fatigues and with a very obnoxious look on their faces. Oh shit, here we go was my thirst thought...but it was only a roaming patrol of border guards who wanted to have a look at our passports. Grim features soon cracked up into broad smiles.
Raced in to Dushanbe and was amazed how modern, clean and nice looking the city was. According to some guidebooks, it was a city in rubbles, full of gun toting paramilitary lunatics and it was said it was extremely dangerous to even be out on the streets even in broad daylight. It was very much off the mark. We never ever felt threatened in the city, even if we were strolling the streets well after midnight. The police (who were more prone to rob you on the spot, than help you, according to Lonely Planet) were always very helpful and friendly and the impression I got of the city was very pleasant.
Once again we were lucky to meet interesting people, this time an aid worker from Germany who took good care of us and also arranged dirt cheap accommodation for us. Was introduced for the Dushanbe elite and was invited for the parties and got loads of interesting info about the country. An absolutely unreal feeling of attending to a samba party at a private lake, with artificial beach, watching, amongst other interesting things, Jeff dancing Lambada.
Alessandra and Mark arrived and it was once again wonderful to see how easy life is on the road today when it comes to communication - internet have solved all old problems.
Got our permits for Gorno Badakshan, the huge mountain province in the east of the country. We got warned a million times about the dodgy stretch close to Komsomolabad and Obigarm. Everyone we spoke to, told us there was no way to cycle past those places, due to Mudjhadin and police checkpoints. The alternatives we had were; fly straight to Khorog (no way!), go for a long detour on a new road (not enough time) or go the on the new safe road with a minibus (it sucked, but what could we do?).
Got a good price with "Mr grim". I fell asleep. Woke up now and then, when stopped in one of the million checkpoints along the way. Stared out of the window and felt miserable not being able to cycle. The smaller foothills of the Pamir got bigger and bigger and the landscape got more lush by the minute.
| | |
| --- | --- |
| | Tajikistan is a dirt poor country. Mark is eating biscuits wrapped in paper from Coca Cola bottles. We in the west may some things to learn about recycling... |
Stopped a million times at checkpoints. They got more and more serious, the guns bigger and the faces grimmer. We felt bad vibes all around us. Got pretty surprised when we saw a sign saying Komsomolabad. What the fuck where we doing there? We were supposed to be on the other road, the safer one in the south. Can only guess, but I think the driver took his chances on the more dangerous route to save some gasoline and he seemed to know the people along the road. The situation got worse. Guards - mudjaheds, with enormous machine guns came into the minibus and joined us on the ride. Stopped at a checkpoint - the guard took farewell - a new one come in and we continued. In that way it continued almost all the way to the first high pass. The road got really bad and to ride in a minivan up a wonderful pass was torture. We all wanted to get out and cycle instead. We told the driver, we didn't care we had paid all the way to Kalaikhum, we wanted to start cycling!
Finally the driver realized we were serious and stopped the minibus. He shook his head and wondered why we wanted to cycle, when we could go in his vehicle all the way.
Felt enormous relief when the bikes were packed and got ready for cycling for the first time in ten days. Wow! Finally on the road I had been dreaming about the last ten years!
| | |
| --- | --- |
| | Going downhill from the first pass. The feeling of freedom was amazingly strong, wild rivers and high mountains all around. |
| | |
| --- | --- |
| | Ale cycling down one of the narrow gorges towards Khorog. |
I'm not even going to try to describe the beauty of the area, hopefully the photos can give you a wink. Deep gorges, waterfalls, wild rivers, small settlements in lush surroundings, very friendly people, high snow capped mountains...I think I may never have cycled in a place more fantastic then this.
CIS troops checkpoints all along the way, but they caused us no problems whatsoever. On the contrary, the soldiers were very friendly and they were happy to see us.
| | |
| --- | --- |
| | Friendly CIS troops at one of the many checkpoints along the road. |
| | One of the soldiers trying out Jeff's bike. |
| | |
| --- | --- |
| | Two different modes of transportation. |
Cruel reminders of the bloody civil war was all around. Blown out tanks, signs warning for mines and deep bomb holes in the asphalt. Arrived in the Pandjz river gorge. The border river with Afghanistan. We had planned to go there, but Ale and Mark didn't have all the necessary documents. Looked in awe at the other side of the river. One day I joked with Ale that we could swim to the other side. What we didn't know at that point was, that Jeff and Mark actually tried it out...and almost got shoot by Tajik border troops.
| | |
| --- | --- |
| | Afghanistan - so close, but still so far away. |
| | The way most people in Gorno Badakshan transported things. |
| | A camp spot overlooking Afghanistan. |
| | Tajik family close to Rushan. |
Arrived in Khorog - the capital of The Gorno Badakshan Oblast (province). Shopped, took a day off and walked around in the little town. Got informed that a nurse at the hospital earned $1.20/month and understood perfectly why everything was so dirt cheap in the country. Had thought about splitting up for some time - me and Jeff off to Afghanistan and Ale and Mark to the south of Tajikistan and then meet up later on, but decided to go for another plan instead. To skip the first part of The Pamir Highway and head for some small back roads close to the Karla Marksa massif instead.
Asphalt for 1km and than the sandy dirt tracks took over. No high passes, but loads of small ups and downs, the road condition got worse and sometimes we not sure about the route choice. Drier areas mixed with lush valleys and wide open plateaus.
| | |
| --- | --- |
| | First sight of the Karla Marksa/Engels massif. |
I left the others behind and went hard up on a small pass, felt it was time for a break, climbed a little rock and when I turned my head to the south, I was almost shocked - the Karla Marksa massif was there, all of a sudden without warning.
The closer we got, the more impressed we got, so rugged, so massive and so close. We had a break and Ale and Mark was ready to go. Just after they had left, Jeff saw a small trail going towards the foot of the mountains. There were a wild flowing river blocking direct access, but we decided to have a go for it. Very wild current. I was lucky to find an easy route over, but Jeff was almost swept away.
| | |
| --- | --- |
| | Me trying out a wild river crossing, gear ripped off the bike in the strong current. Pik Engels in the background. |
Grassy ground at first and later loads of rocks, difficult and hard, but we just couldn't stop - the beauty of the peak in sight drove us further.
| | |
| --- | --- |
| | Cycling towards Pik Engels. |
Went as far as we could, almost at the foot of the glaciers. It's always difficult to compare beauty, but I think it is the most fantastic place I've ever been to. The surroundings, the massive looming shape of Pik Engels summit pyramid, the huge glaciers...wow!
Had got a bit too carried away and realized it was getting late. Turned back and started to chase the others.
| | |
| --- | --- |
| | Were invited to this little hut by at least three generations of friendly women. |
When we reached the river again, three persons was waiting on the other side, looking in silence, armed with a Kalashnikov. Felt a threat picture building up. First the wild river and the waiting rugged looking men on the other side. I started to negotiate the river, Jeff was close behind. The man with the Kalashnikov barked something that sounded like an order. "Just what we fucking need! People shooting at us while we fight for our lives trying to get over a river. Great"! Jeff was wrong, it was not an order to shoot us, but to help us out. Two of the guys jumped into the river, fully dressed and started to help us get the bikes to the far side.
| | |
| --- | --- |
| | Crossing the river, people waiting on the other side. |
On the other side we sat down cold, wet and quite exhausted and tried to have a conversation with our helpers. Jeff lent them his bike and I did the same. In exchange we got a crash course in how to handle a Kalashnikov. Two happy Tajiks cycling around laughing on the green hills and two westerners playing with a huge machine gun.
Boys and their toys...
Just before twilight we caught up with Ale and Mark who had found a great camp spot in a valley. We were nowadays very spoiled with perfect spots. There was no way we could even imagine camping unless there were green, smooth grass and fresh water maximum ten meters away. Usually a place was rejected even if it wasn't beautiful as well. Got so picky in Tajikistan....
The plan was to hit The Pamir Highway close to Jhelandy, where we thought we could pick up some new supplies of food. We would had stayed much longer in the Karla Marksa area if we had had enough food, but there were none and we had to push on. Went over a 4000m+ pass and arrived at a small plateau. Tracks going all directions...we had no clue where to go.
| | |
| --- | --- |
| | On the little remote plateau south of the Pamir Highway, close to Jhelandy. |
| | |
| --- | --- |
| | Lost for some hours, tracks going all directions and we were cycling in circles. |
| | Looking at the maps for the x'th time. |
Finally found the way thanks to a family in a little stone hut. So poor in the Gorno Badakshan Province and still the people wanted to give me what they had. Chugged down some very odd smelling and salty tasting, rock hard cheese which were found under a rug in the garden. Sometimes you eat out of politeness, this time is was out of hunger. Hadn't had a real meal for days and the cheese was passable even if I had to have it in my mouth forever in order to "soften" it a bit before even attempting chewing the stuff.
Rolled down the last passes towards Jhelandy. Listened to the food lists the others made. Snickers bars...maybe ten of them...I prefer mars bars...what about some pasta...vegetables....bla bla. When we arrived in Jhelandy it was obvious that the Snickers bars were out of the question. It was more a question if we could find anything at all. No shops. Were invited for bread, sugar and some sort of fermented buttermilk. Were able to buy a kilo of sugar and some breads. Murghab was still 200km off, the next place where we could buy anything.
| | |
| --- | --- |
| | Photo madness. Jeff taking a picture of me, taking a picture of Ale, taking a picture of Mark. |
Ale was a bit ill, so she decided to flag down a truck. Jeff, Mark and I decided to go for it in two days. Back on the asphalt it should be ok, even if there were four 4000m+ passes on the way. I felt great and the further the day went, a thought started to root in my mind...I could do it in one day. Also felt a bit guilty to use the other's food, after all I had thrown away some pasta earlier on, "because it was too heavy". Idiot!
| | |
| --- | --- |
| | On the salt plateau. Very dry windy and desolate. Here, the only sign of habitation, a little shed and a family. |
Over the first two passes. Arrived at the "salt plateau", a very dry and desolate part of the Pamirs. Difficult to find water. Found some after 140km and cooked my last food - bread, garlic, Yupi (instant drink with strawberry taste) and rice. Believe it or not, it was not that bad at all. Over the two last passes, which were easy and arrived in Murghab at dawn. Bought basically everything that was offered at the roadside tables. Cookies, candy, bread, raw noodles, an apple, nuts etc. Very full and satisfied I checked in at Gastinitsa Murghab - the cheapest place on this journey - $0.27/night.
Had a break day, eating from early morning to late night. Jeff and Mark arrived and we set off for a shopping spree at the town's little market. We had promised ourselves to never screw up with the food planning and never to end up in a situation were we had to starve again.
| | |
| --- | --- |
| | Stuffing my panniers with food in Murghab. |
| | |
| --- | --- |
| | Changing money on the black market is usually something you try to do in a back alley or at least a little bit out of the way. No way in Murghab, probably a hundred or more spectators... |
Left Murghab with at least ten kilos of food each in our panniers.
| | |
| --- | --- |
| | Tajik children. |
| | Tajik woman. |
| | Tajik kid and donkey. |
Passed the highest pass on The Pamir Highway, the mighty Ak-Baytal at 4600m+ and a nice downhill followed.
| | |
| --- | --- |
| | Very windy sometimes, we had to cook and have our snacks in whatever kind of shelters available. This time in an old ruin. |
Camped at the brightly deep blue and clear Kara Kul lake.
| | |
| --- | --- |
| | At the beach of the beautiful lake, high peaks in the background. |
| | |
| --- | --- |
| | Kara Kul village, the last settlement before the Kyrgyz border. |
| | |
| --- | --- |
| | Lone rider on a donkey. |
Passed some more checkpoints and camped at a basin at the foot of the higher parts of the Pamiri range.
| | |
| --- | --- |
| | Bright sunshine one second and the next a blizzard came out of nowhere...coming up fast. |
| | |
| --- | --- |
| | Mark taking shelter in the tent. |
| | Maybe I should've done the same, but couldn't resist going out to have a look at the approaching storm. |
| | The storm passed very quickly, sunshine again half an hour later. |
| | |
| --- | --- |
| | Mark and Pik Lenin. |
| | All along the Chinese/Tajik border there's a high fence and large no-man-land-zone. It was the sensitive border between two superpowers...+Jeff and a souvenir. |
The other three had an earlier visa entry (set times for both Tajikistan and Kyrgyzstan) for Kyrgyzstan and I didn't feel like sitting at the border and wait for six days, so just after the Tajik border post I stopped and changed my Kyrgyz visa a bit - gave myself another month, with the help of a ballpoint pen and a razorblade.
| | |
| --- | --- |
| | Last shot of the dry areas close to the border. |
Charged up the pass to the border and hoped that my forged visa could stand up to close scrutiny.
Continue to the next part of the journey!